New Zealand's Venture Capital Fund for Everybody
We believe in New Zealand, in rapidly maturing high tech economy, and the tens of thousands of people who start and grow amazing businesses here. Our mission is to ensure that every great company is well funded, and that we see vast pools of local capital deployed to this highly productive and low emissions sector. We do our bit, and we encourage and support other investors to join the increasingly large venture capital industry here.
We believe in treating everyone with kindness and respect, being ambitious in our goals for the community and ourselves, pioneering new ways. We are evidence based, disciplined investors, and look to where the future will be.
Punakaiki Fund has three important differences for founders:
Years of experience
We are one of only three venture capital firms that has been active for over 6 years in New Zealand, starting work on the fund in 2012 and making our first investment in early 2014. We have made well over 100 investments into over 25 companies since then.
Our team brings experience as founders, advisors, bankers, and much much more. We are based in Te Anau, Wellington and our main office in Auckland. Our people are from New Zealand, Pakistan, India, Australia, UK, and the USA, and we are adding to our team as we grow.
Evergreen
We are an evergreen fund, which means we raise capital as we go, and seek to apply that capital to existing and new investments. We reinvest through multiple rounds, where we can, and where we see performance. We seek to be there in tough times, but also to have the discipline, and we look to tell founders early, to cease funding where we need to.
We are in it for the long run, looking to help companies grow and keep growing for many years. While founders and other shareholders may seek exits, our counsel is generally to keep growing. We assist with exits, generally where we are the lead investor, and help companies raise funds from other investors.
Retail Investors
We have over 1,000 investors, small, medium and large, and seek to list our own fund in the future. With the large number of investors we can also assist portfolio companies with their own listing, particularly in local markets. This also means we bring a ready audience for companies to help expand their existing customer base.
We have hard-earned hands-on experience in raising capital – for ourselves through 8 retail offers (including a crowd-funding offer) and multiple wholesale offers, and our team has experience in assisting hundreds of companies through NZTE programmes and otherwise.
Investment rounds are getting bigger and bigger, as new funds are formed locally and offshore investors are increasingly attracted to the very hugh quality yet under-funded companies here in New Zealand. We have led or co-invested alongside every major fund in New Zealand, as well as offshore funds. Get in touch if we can help with your capital journey.
Structure and Venture Capital Investment Portfolio
Punakaiki Fund is an investment company owned by over 1,000 shareholders, and governed by a Board of directors. Punakaiki Fund is managed by 2040 Ventures Limited (formerly LWCM Limited), where the principals are Lance Wiggs and Chris Humphreys, and Nadine Hill is the Investment Director. The company held investments, as at mid December, 2020, in 15 Core Portfolio companies, as well as a number of other investments, or investments held for exit.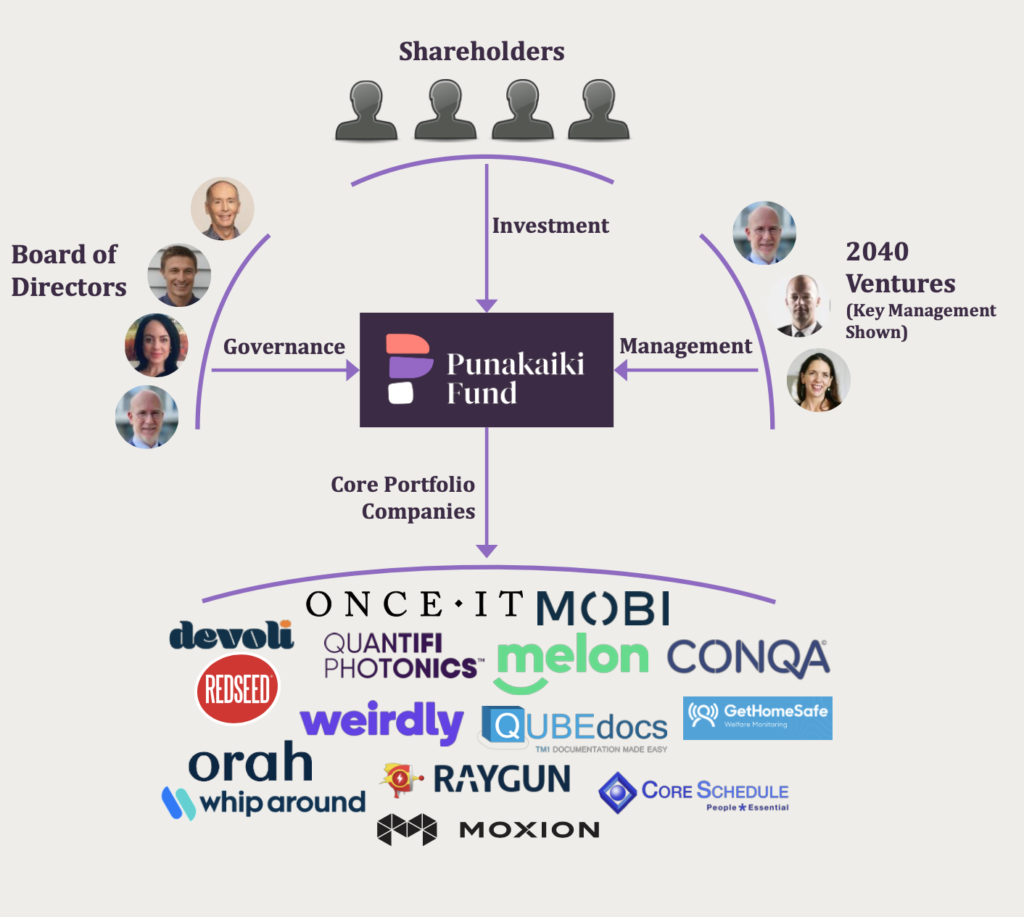 You can read more information about Punakaiki Fund in our most recent Product Disclosure Statements, annual reports and other documents on our Key Documents and Reports page.
---
Looking for Investment?
We are always looking for new investments. If your technology company is New Zealand based, growing quickly, and has at least $500,000 of revenue (SaaS) or $3 million revenue (non SaaS) then please get in touch. We target initial investments of at least $1 million.
Find out more
---
Join the mailing list below to keep up to date with Punakaiki Fund.
For more detailed information, please check out our founding documents, quarterly and annual reports, interim accounts and more in our Key Documents section.
Join the mailing list