The 2021 Retail Offer is now live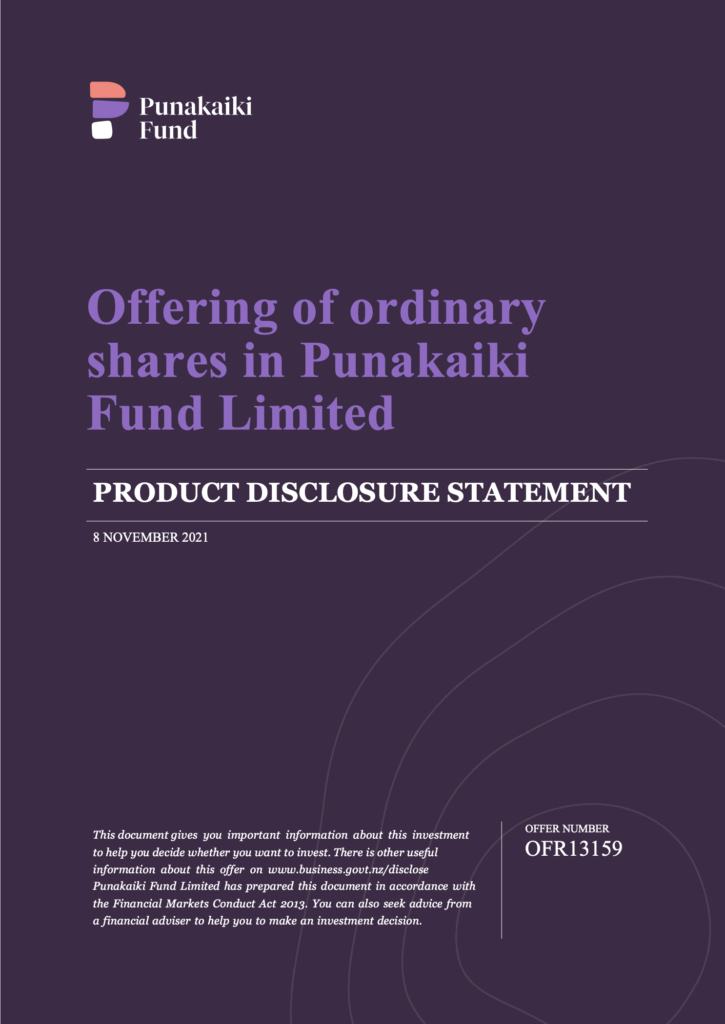 Invest online, or download and complete one of the application forms, and email the completed form to us.
Application form for Trusts
Application form for Companies
Application form for Existing Investors
Application form for Individuals
---
2021 Retail Offer Video
---
Structure and Venture Capital Investment Portfolio
Punakaiki Fund is an investment company owned by over 900 shareholders, and governed by a Board of directors. Punakaiki Fund is managed by 2040 Ventures Limited (formerly LWCM Limited), where the principals are Lance Wiggs and Chris Humphreys, and Nadine Hill is the Investment Director. The company holds investments in 15 Core Portfolio companies, as well as a number of lower value investments, or investments held for exit.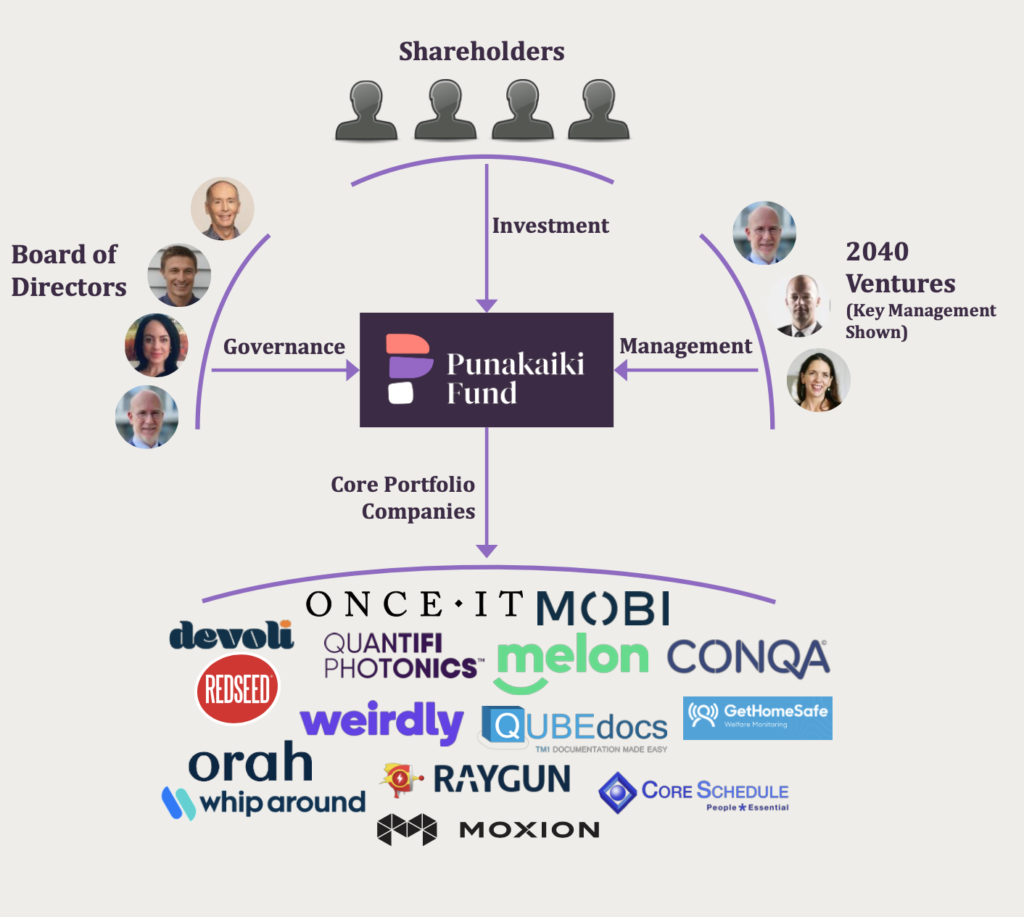 Please read the Product Disclosure Statement for information about our investments.
---
Growing Aggregate Revenue
The aggregate revenues of the companies we have invested into is well over $100 million, and is growing strongly. The chart below excludes revenue from four companies that were divested in the last 12 months and collectively added over $70 million.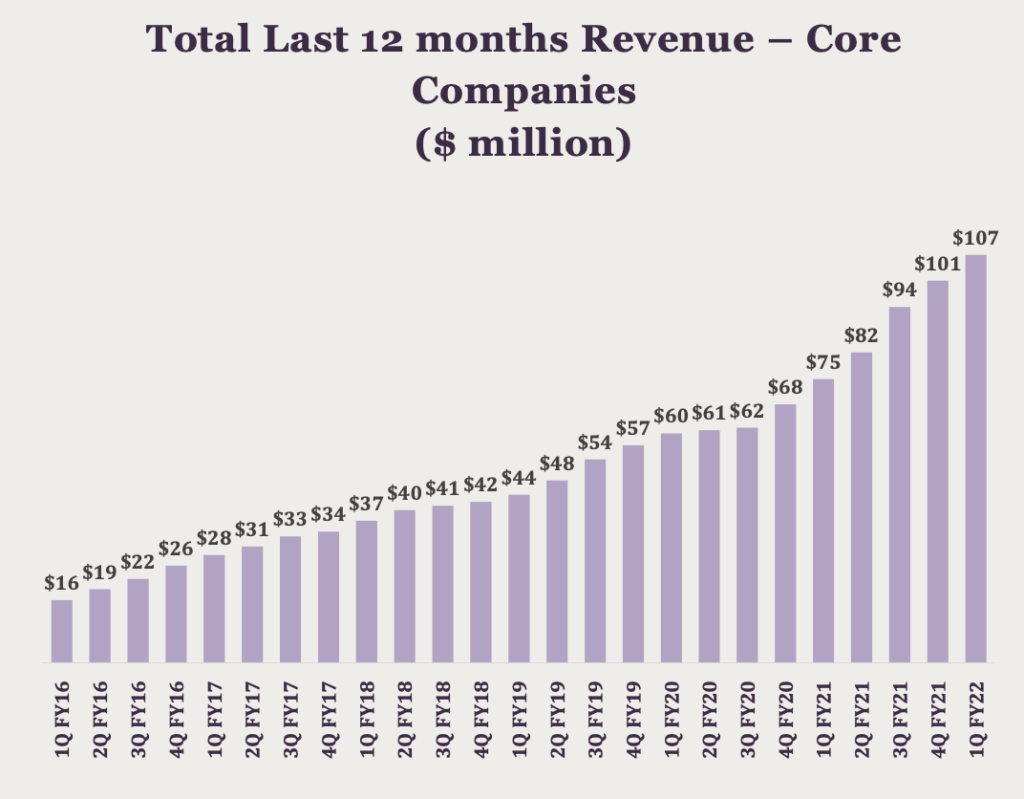 ---
Drivers of Return
Our returns are driven by the underlying performance of the companies we have invested into, along with the other factors below.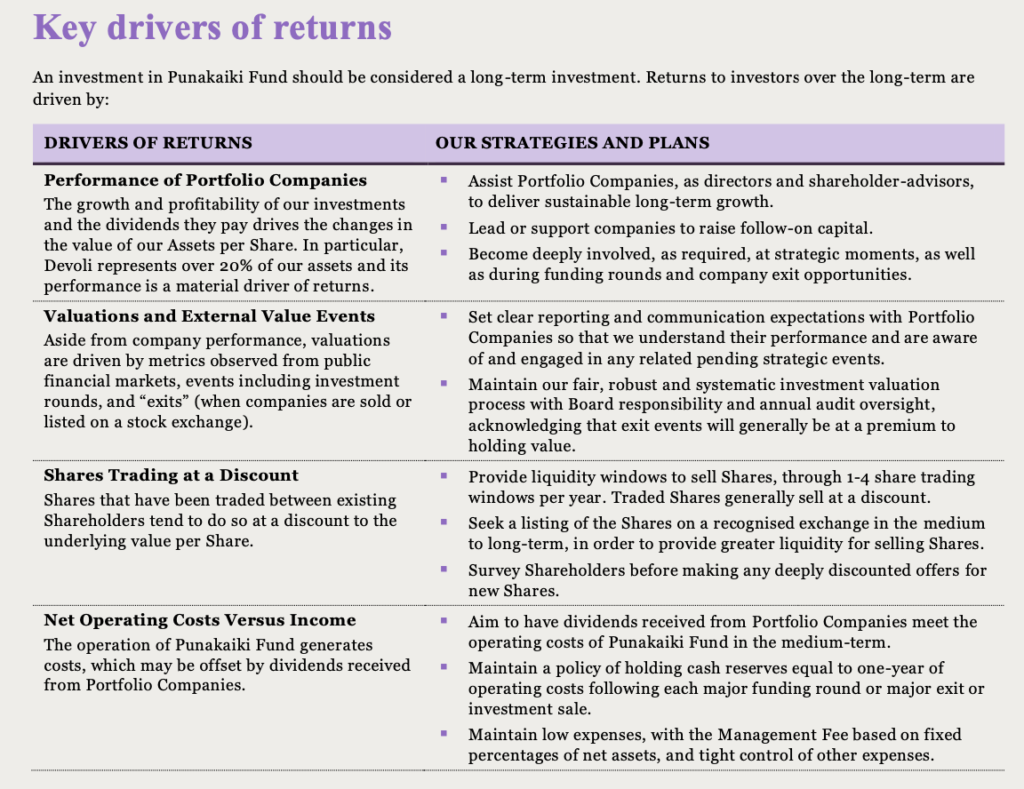 ---
Rising Fund Size
We have raised $41 million since 2014, when we started with just $1.5 million, and now have $78 million in assets.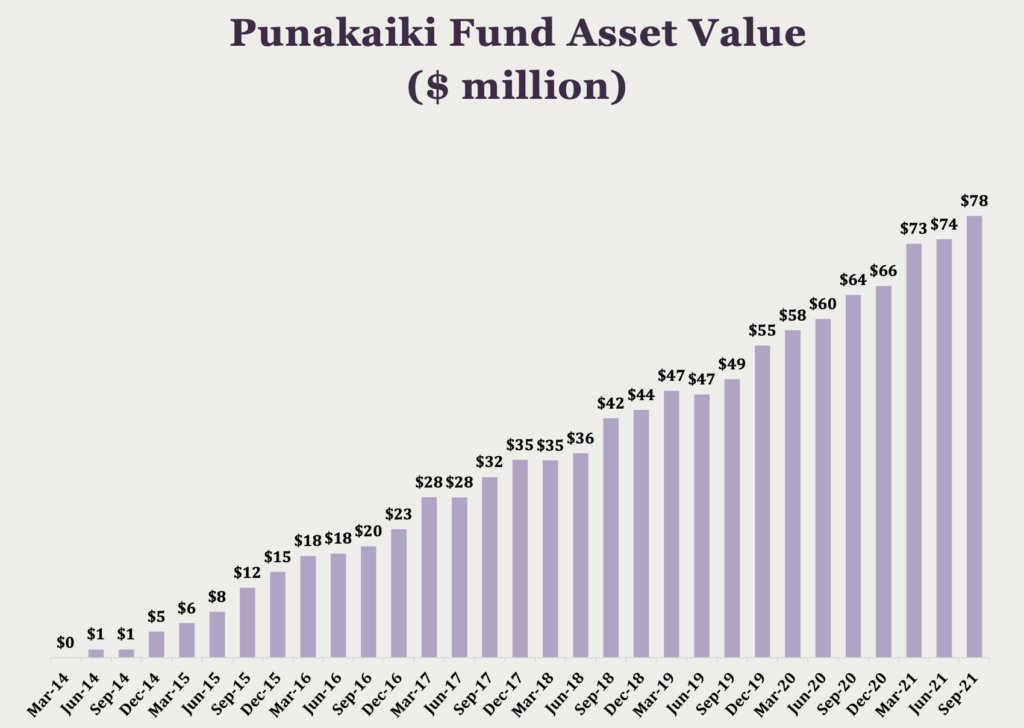 ---
Deliberate Diversification
We manage our portfolio according to our Statement of Investment Policy and Objectives, and look for a spread of investments across company sizes. As the companies we have invested into grow, then they become more valuable, and command a greater share of the value of the portfolio. Today well over 50% of our portfolio value is with companies with revenues in excess of $5 million per year.
---
Key Risks
The Key Risks of investing in Punakaiki Fund are based on our exposure to Venture Capital risk and our larger investments.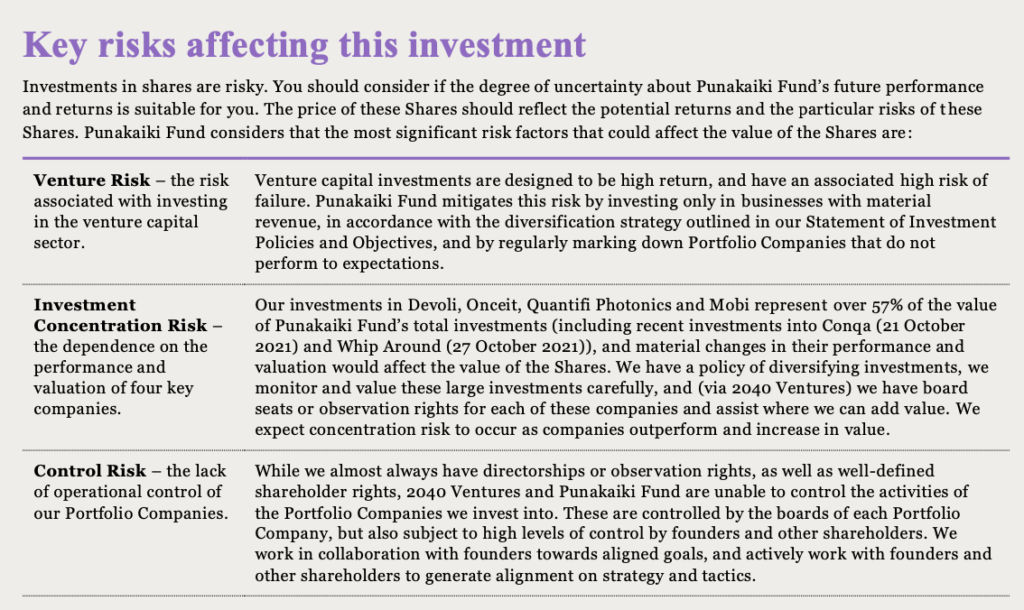 ---
Strong History of Financial Growth
Over the last few years we have shown strong and reliable growth in revenue, and have been profitable. The large increase in revenue (and profit) for FY2021 was underpinned by the sale of Vend and Timely.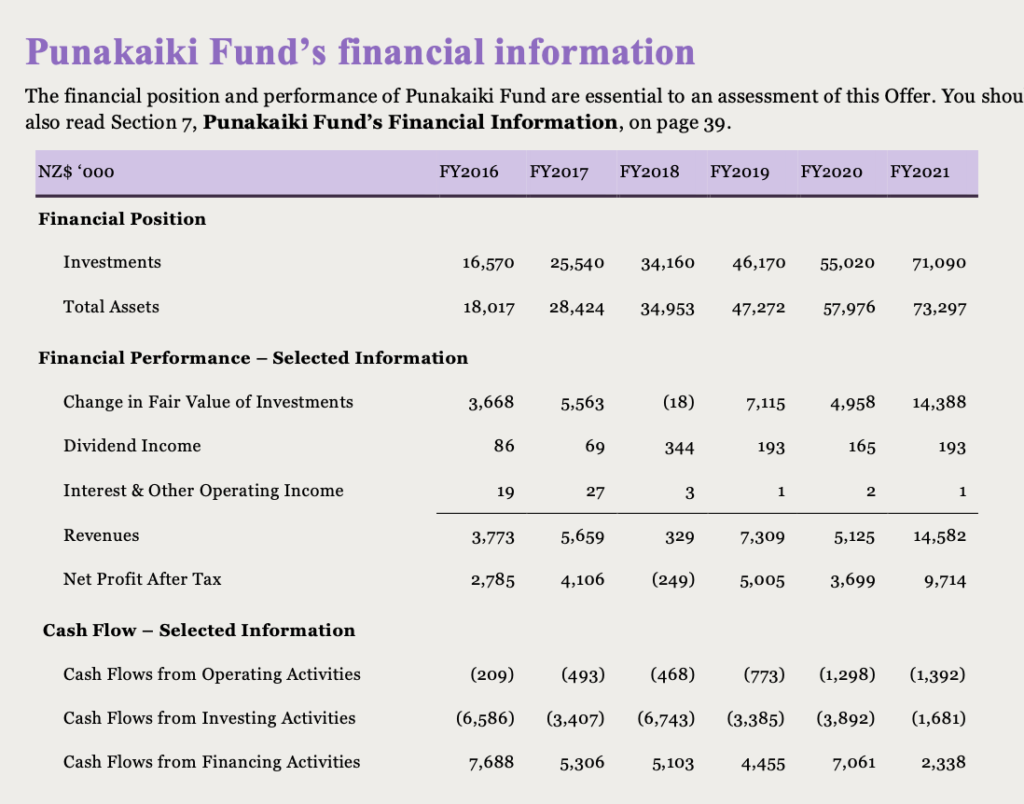 ---
Growing Cash Returns from Investments
The chart below shows combined dividends and sale of business proceeds, including outstanding loans and escrowed cash. The impact of the exits of Vend and Timely is clear to see. These investments were collectively marked up by over 2.5x on exit. Timing and value of any Exits is unpredictable.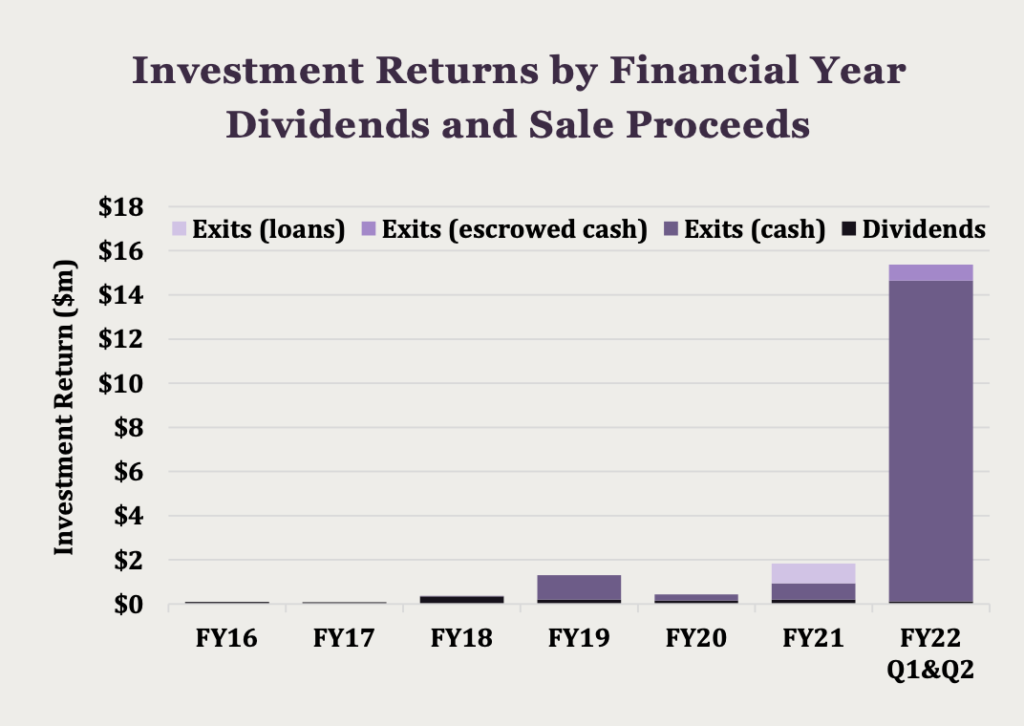 ---
Strong and Evolving Board
We have a strong existing Board of Directors, and will appoint three new directors to the Board in January 2022. The intention is to assess our future capital strategy over the following months. There are a number of options, including a potential initial public offering (no immediate plans are in place), switching to wholesale investor offers only and so on. Consequently this may be the last Retail Offer we make that is not associated with a listing, and a listing might be quite some time away.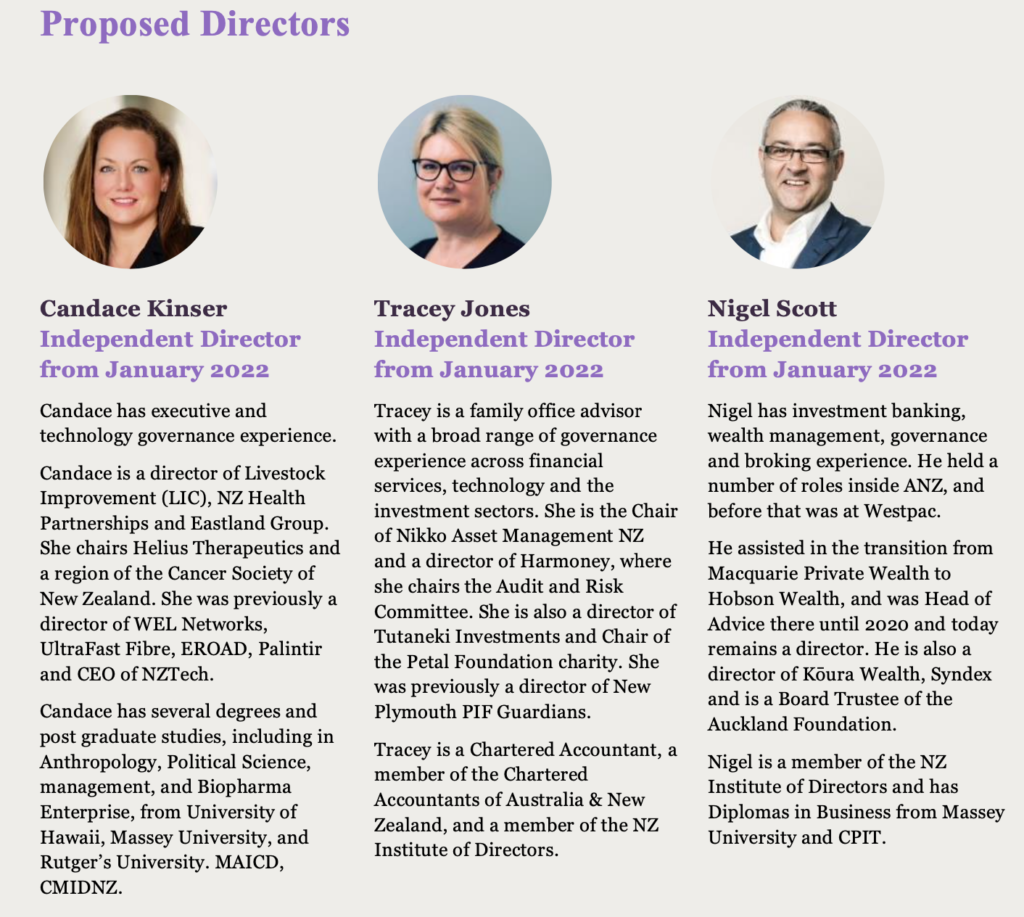 ---
Key Terms
The tables below are from the PDS, and show the key terms of the offer as well as the management agreement. The offer is open until December 9th at midnight, with a cap of 500,000 shares available. Invest online, or through an application form at the top of the page.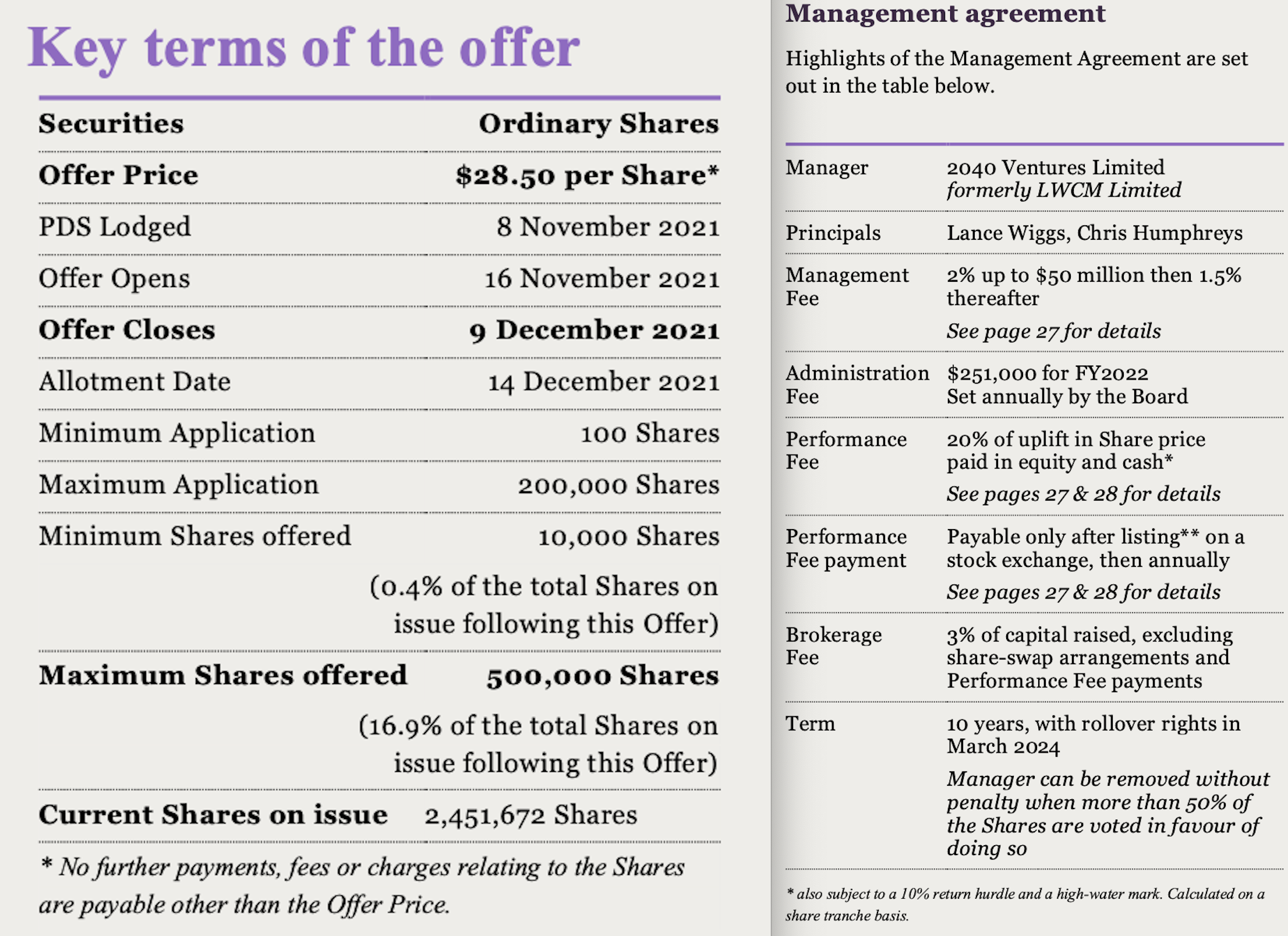 ---
More information
The Product Disclosure Statement contains all of the material information you need to be able to make an investment decision. We have also filed a number of documents with the Disclose Register. Choose "Search for an Offer", then Punakaiki Fund as the issuer name, and you can see the current and previous offers, along with associated documents.
We also have a rich selection of documents on this website – including historical Annual Reports, Quarterly Reports, Offers and a suite of policy documents. These are founder here: Reports and Key Documents.
---
Looking for Investment?
We are always looking for new investments. If your technology company is New Zealand based, growing quickly, and has at least $500,000 of revenue (SaaS) or $3 million revenue (non SaaS) then please get in touch. We target initial investments of at least $1 million.
Find out more
---
Join the mailing list below to keep up to date with Punakaiki Fund.
For more detailed information, please check out our founding documents, quarterly and annual reports, interim accounts and more in our Key Documents section.
Join the mailing list