For Investors
Punakaiki Fund makes long term investments into high growth New Zealand Companies. It holds minority positions in 18 companies.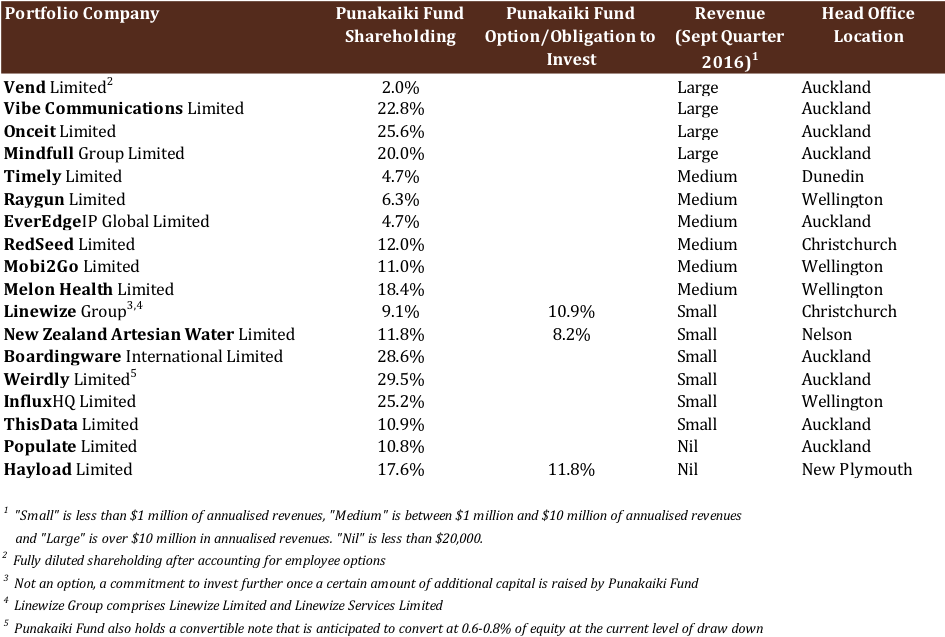 The total assets, including cash, were valued at $20.3 million for the November 2, 2016 Product Disclosure Statement (PDS). The Net Asset Value (NAV), after all liabilities including long term contingent liabilities for Performance Fees, was $18.9 million. The PDS has a price per Share of $19.00, up from $10.00 paid by investors in April 2014.
Portfolio Statistics
The investments represent a diverse range of products and services, target markets, business models and sizes. The aggregate last-quarter (September 2016) revenues for all companies annualised to over $69 million. The equity-weighted revenues totalled $9.6 million, and while only a third of the companies were profitable the companies show a last quarter aggregate equity-weighted profit.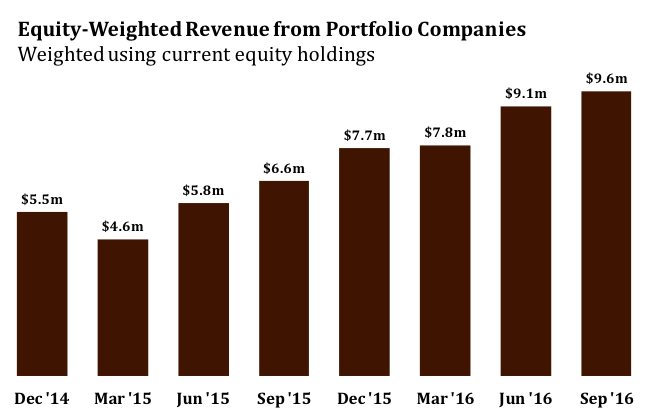 The charts below reflect the investments in the 18 companies, as valued for the PDS on October 18, 2016. They show percentages of total investment value, excluding cash.
The largest holding represents less than 15% of the investment value. The three largest holdings represent 40% of total investments value.
While 58% of the fund's investment value is with companies that are unprofitable, most of these have enough funds to get to cash-flow positive. We estimated that over 94% of the assets of the fund are placed with companies that do not need further funding to be sustainable.
Unusually for a growth investor, 42% of the asset value is placed with companies that are profitable or near-profitable.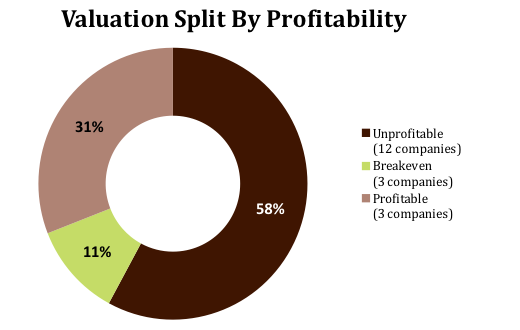 The asset value is spread across a range of company sizes, with 45% of the value from companies with over $10 million in revenues.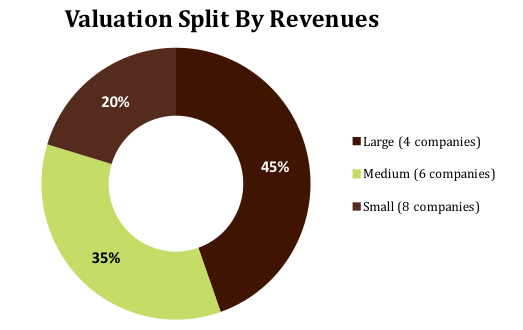 Punakaiki Fund holds a range of investment stakes.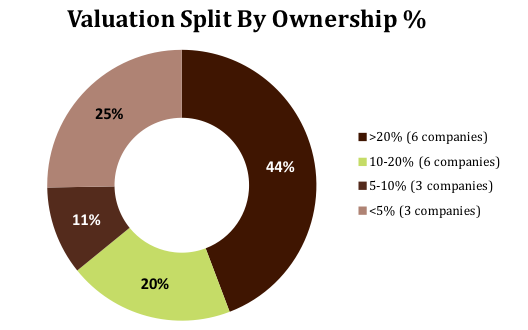 Managers Lance Wiggs or Chris Humphreys are directors for 12 of the 18 companies. The fund does not insist on directorships, and we expect that these will vary over time as founders' needs evolve.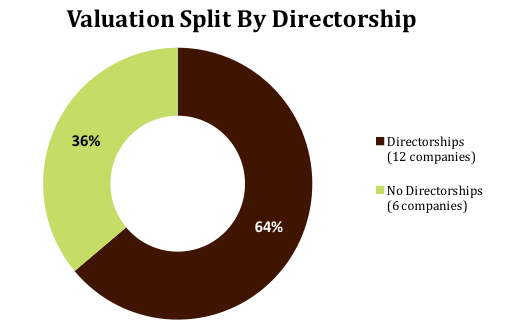 The breadth of industries (and sizes, stages and stakes) is deliberate, designed for the fund to exhibit more resilience in the face of market shocks in one sector.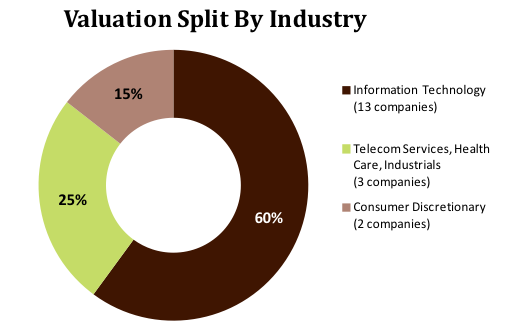 ---
Fund Raising
Punakaiki Fund launched as a private fund in April 2014, raising $12.830 million to date, including issuing new shares for one transaction. These fund raising events ere for wholesale investors only, unless noted, and included:
$1.525 million in April 2014 for Shares+Options, priced at $10. The options were to buy a $10 share expiring in November 2014 and a $12 share expiring in June 2015.
$1.500 million from the November 2014 option round for shares priced at $10, which was 98.3% subscribed.
$1.830 million from the June 2015 option round, for Shares priced at $12.00, which was 100% subscribed.
$1.155 million in December 2014 for Shares+Option priced at $12.50. The option was to buy one share for $14 by 30 September 2015.
$2 million (maximum allowed) from the public via the Snowball Effect offer in June 2015 for shares priced at $14.50.
$0.912 million from a private offer run alongside the Snowball Effect Offer in June 2015 for shares priced at $14.50.
$0.942 million from the September 2015 Options for Shares priced at $14.00. The option round was 73% subscribed with a lot of investor demand satisfied by trading of the June options and the June offer.
$0.725 million from the issue of new shares in return for shares in Vend Limited. This was a related party transaction with Lance Wiggs and required a shareholder vote.
$2.24 million in December 2015 and January 2016 for Shares+Options priced at $16.50. The options were to buy a $19.00 Share, expiring in September 2016.
$0.53 million in October 2016 from the September 2016 $19 Options, which was 20.59% subscribed. This was low as the board was unable to give certainty about whether the then forthcoming PDS offer would be above the same or below $19. The price for that offer is $19.
Over $2.3 million from a NZ Public Offer in November and December 2016. (Being finalised when this was written 20 Dec 2016)