For Investors
Punakaiki Fund makes long term investments into high growth New Zealand Companies. It holds minority positions in 19 companies.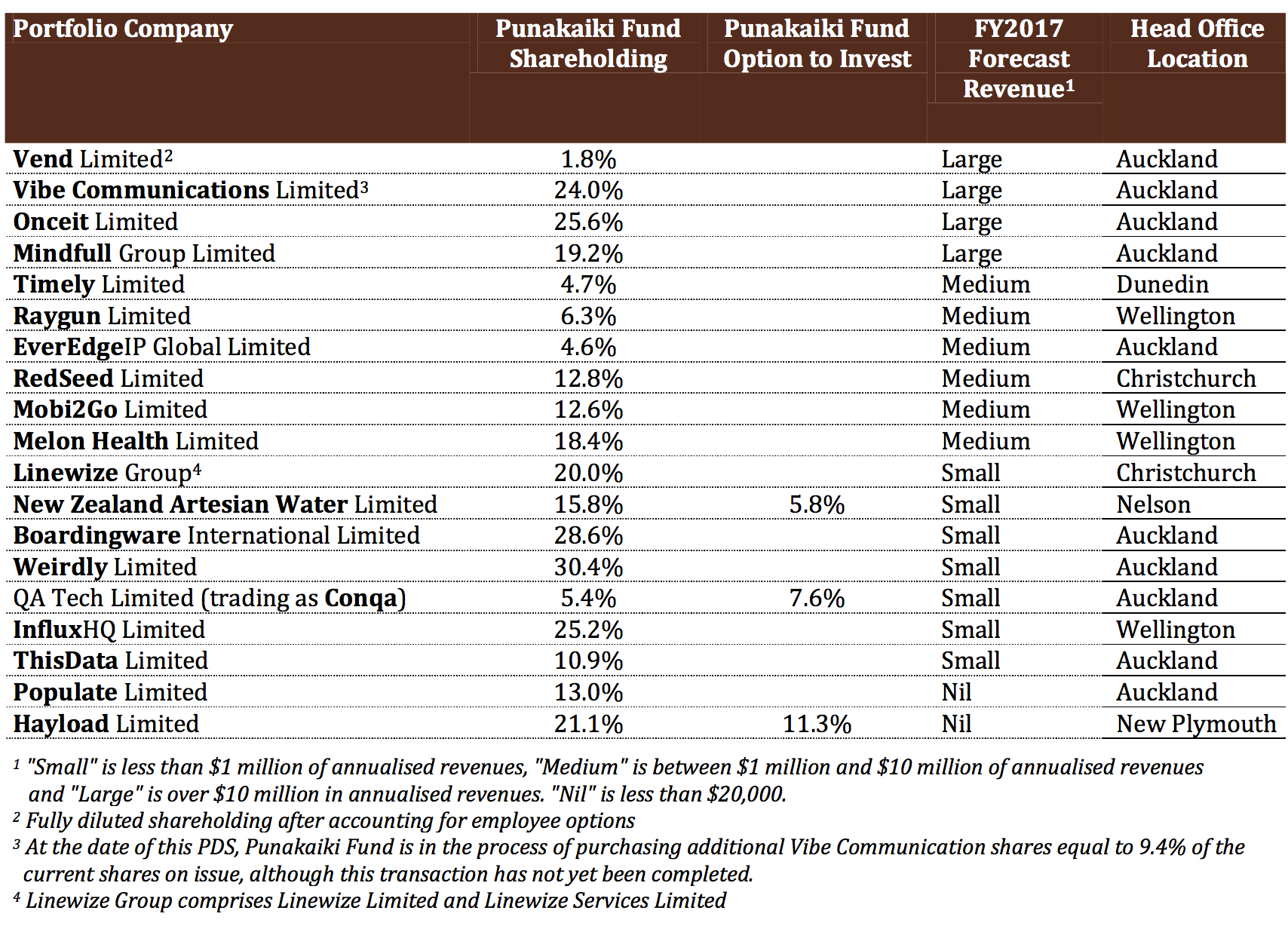 The total assets, including cash, were valued at $27 million for the March 3, 2017 Product Disclosure Statement (PDS). The investor Net Asset Value (iNAV), after all liabilities including long term contingent liabilities for Performance Fees, was $24.8 million, or $21.46 per share. The PDS Offer had a price per Share of $20.50, representing a discount on iNAV/share.
Portfolio Statistics
The investments represent a diverse range of products and services, target markets, business models and sizes. The aggregate last-quarter (December 2016) revenues for all companies annualised to almost $72 million. The equity-weighted revenues totalled $9.5 million, and the companies show a last quarter aggregate equity-weighted profit.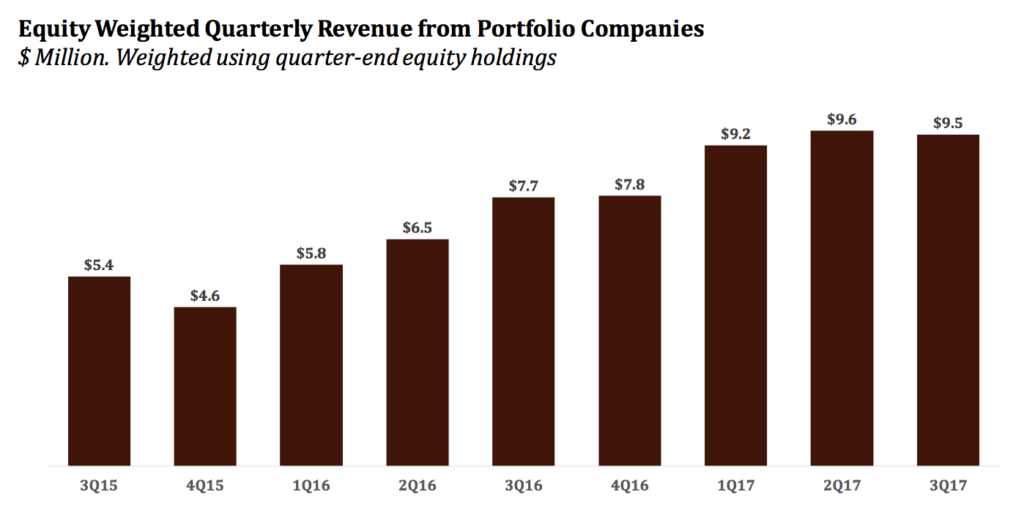 The charts below reflect the investments in the 19 companies, as valued for the PDS on February 27, 2017. They show percentages of total investment value, excluding cash.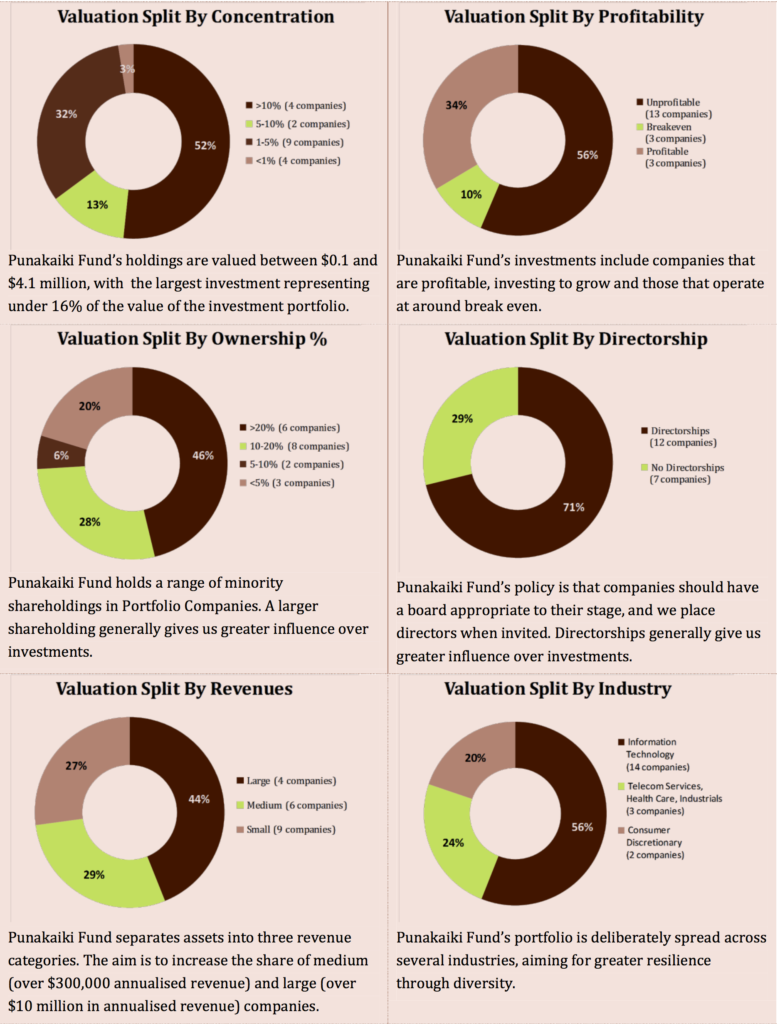 ---
Fund Raising
Punakaiki Fund launched as a private fund in April 2014, raising $15.7 million to date, including issuing new shares for one transaction. These fund raising events were for wholesale investors only, unless noted, and included:
$1.525 million in April 2014 for Shares+Options, priced at $10. The options were to buy a $10 share expiring in November 2014 and a $12 share expiring in June 2015.
$1.500 million from the November 2014 option round for shares priced at $10, which was 98.3% subscribed.
$1.830 million from the June 2015 option round, for Shares priced at $12.00, which was 100% subscribed.
$1.155 million in December 2014 for Shares+Option priced at $12.50. The option was to buy one share for $14 by 30 September 2015.
$2 million (maximum allowed) from the public via the Snowball Effect offer in June 2015 for shares priced at $14.50.
$0.912 million from a private offer run alongside the Snowball Effect Offer in June 2015 for shares priced at $14.50.
$0.942 million from the September 2015 Options for Shares priced at $14.00. The option round was 73% subscribed with a lot of investor demand satisfied by trading of the June options and the June offer.
$0.725 million from the issue of new shares in return for shares in Vend Limited. This was a related party transaction with Lance Wiggs and required a shareholder vote.
$2.24 million in December 2015 and January 2016 for Shares+Options priced at $16.50. The options were to buy a $19.00 Share, expiring in September 2016.
$0.53 million in October 2016 from the September 2016 $19 Options, which was 20.59% subscribed. This was low as the board was unable to give certainty about whether the then forthcoming PDS offer would be above the same or below $19. The price for that offer is $19.
$2.38 million from a NZ Public Offer and Australian IM to wholesale investors in November and December 2016.
A retail offer and rights issue for New Zealand was live until March 20, 2017.