For Investors
Public Offering of Shares
Punakaiki Fund periodically offers shares to the public in New Zealand, via a regulated Product Disclosure Statements. the next offer will be after August 1, 2018.
For details of the last offer, which closed on 21 December, 2017, please see the November 2017 Product Disclosure Statement (PDS).
We also periodically make offers to wholesale investors. Please add yourself to the mailing list or otherwise get in touch if you would like to know more.
Purpose of this Offer
---
Punakaiki Fund is raises new capital to make further investments into exciting and new Portfolio Companies, and to pay our operating costs. Punakaiki Fund makes long-term investments into high-growth New Zealand Companies. It currently holds minority positions in 20 companies, listed below.
Key Terms for the last Offer
---
The total assets, including cash, were valued at $32.3 million for the 30 November 2017 (PDS). The Investor Net Asset Value (iNAV), after all liabilities, including long term contingent liabilities for Performance Fees, was $29.9 million, or $21.31 per share. The PDS Offer had a price per Share of $21.00, representing a discount on iNAV/share.
Offer Terms
This is an offering of Ordinary Shares in Punakaiki Fund.
The Price per Share is $21.00, and is inclusive of 3% brokerage. Once you pay for your Shares, you will have no obligation to pay any further amount.
PDS Lodged: 30 November 2017
Offer Opened: 8 December 2017
Offer Closed: 21 December 2017
Allotment Date: 24 December 2017
Minimum Investment per Shareholder: 100 Shares($2,100), then in increments of 100 Shares ($2,100)
Maximum Investment per Shareholder: There was no maximum number of Shares you can subscribe for
Minimum Shares Available: There was no minimum number of Shares being offered
Maximum Shares Available: There was no maximum number of shares being offered
Current Shares on Issue:1,401,441 Shares
Management Agreement
Manager: Lance Wiggs Capital Management Limited
Manager Principals: Lance Wiggs and Chris Humphreys
Initial Agreement Term: 10 years, beginning March 25, 2014
Removal of Management: More than 50% of the Shares on issue voted in favour
Management Fee: 2% of Accounting Net Asset Value per annum plus GST, paid quarterly in advance
Performance Fee: 20% of any net gains. This is subject to a 10% return threshold being met and a high water mark
Additional information regarding the management of Punakaiki Fund is contained within the Management Agreement between Punakaiki Fund and LWCM, found in the Disclose Register under Punakaiki Fund's offer number (OFR12237).
Punakaiki Fund Limited is not a 'managed investment scheme' (MIS) for the purposes of the Financial Markets Conduct Act and does not have an FMA-licensed manager or an FMA-licensed independent supervisor to govern its investment activities. Investor rights are set out in the constitution of the company, which has been set up in accordance with the Companies Act 1993.
Under its constitution, Punakaiki Fund is structured as a company and is governed by a shareholder-elected board of directors, with the Manager appointed under the Management Agreement. The investor rights include the ability for the Manager to be removed without penalty if a majority of Shares are voted in favour of doing so. A typical MIS requires approval of 75% of its investors to remove the scheme manager.
Portfolio Statistics
---
The Portfolio Companies represent a diverse range of products and services, target markets, business models and sizes. The aggregate last-quarter (September 2017) revenues for all companies annualised to almost $81 million. The equity-weighted revenues totalled $11.1 million, and the chart below shows the increase in total equity-weighted revenue for all Portfolio Companies over the past 10 quarters.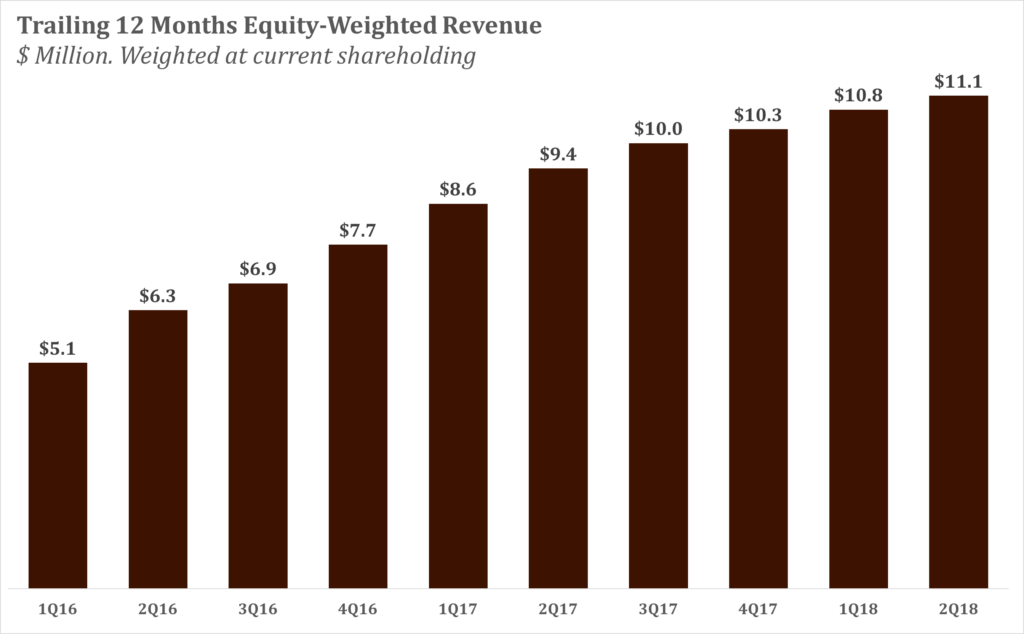 The charts below reflect the investments in the 20 companies, as valued for the PDS on 23 November 2017. They show percentages of total investment value, excluding cash.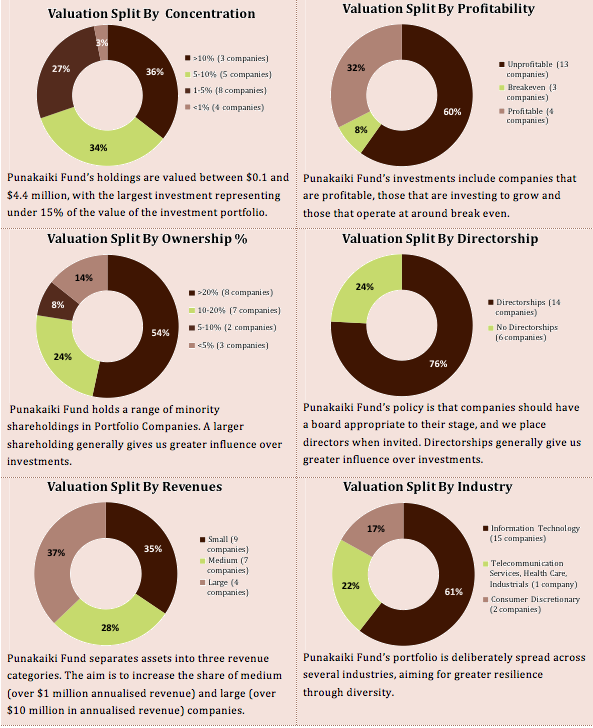 Key Drivers of Return
---
An investment in Punakaiki Fund Should be considered a long-term investment. Returns to investors over the long term are driven by:
Changes in the value of Punakaiki Fund's Assets per Share; and
Any dividends paid to investors by Punakaiki Fund. No dividends have yet been paid, none are currently proposed and none are expected to be paid in the short or medium term.
The value of our Assets is primarily driven by the change in financial performance (and therefore valuation) of each of the Portfolio Companies, in particular their revenue growth and profitability. The value of our Assets is also driven by any dividends paid to Punakaiki Fund by the Portfolio Companies and by the costs incurred by Punakaiki Fund.
The performance and valuation of each Portfolio Company is impacted by a number of factors. These include:
The past investment selection ability and current investment support by our Manager;
Changes in the valuations of comparable companies listed on public markets;
The value at which new or existing investors participate in further capital raising undertaken by Portfolio Companies; and
Each Portfolio Company's ability to raise additional capital, some of which may be provided by Punakaiki Fund.
The key drivers of Return are discussed further in Section 6, Key Features of the Shares, of the November 2017 PDS.
Key Risks Affecting This Investment
---
Investments in shares are risky. You should consider if the degree of uncertainty about Punakaiki Fund's future performance and returns is suitable for you. You should also consider whether the price of these Shares fairly reflects the potential returns and the particular risks of these Shares. The most significant risk factors that could affect the value of the Shares, as determined by Punakaiki Fund, are set out below.
Loss of value due to the poor performance or failure of one or more of the Portfolio Companies, which would cause the value of the investment assets of Punakaiki Fund to be revalued downwards. The Manager actively monitors performance of the Portfolio Companies and Punakaiki Fund marks down the carrying value of any underperforming investments. To date, investments representing 30% of the value of the assets of Punakaiki Fund have, at some time, been marked down from a previous carrying valuation. The investments we currently regard as highest risk are valued at under 18% of the Investor Net Asset Value, which is the value of the assets plus working capital less accrued performance fees.
Higher volatility in the valuation of Punakaiki Fund investments than in public market indices. This reflects the heightened valuation volatility that the Portfolio Companies have in response to public market valuation movements (e.g. downwards and upwards movements in the ASX, NZX and international share market indices) due to their smaller size and higher growth. For clarity, a sudden 30% fall or rise in global share markets would likely result in a greater fall or rise in the valuations of Punakaiki Fund's investments. We maintain a long-term perspective on investments, which can make us less sensitive to some short-term volatility.
Ongoing capital raising (such as Share issues) do not meet Punakaiki Fund's needs or expectations. Punakaiki Fund requires cash to meet its operating expenses and to make further investments. If Punakaiki Fund does not continue to raise sufficient capital or sell investment assets including any listed shares it holds then it may fail, in which case the Investor Net Asset Value per Share is likely to fall significantly. We set aside a reserve of 2.75% of Accounting New Asset Value immediately after any Punakaiki Fund capital raising event to meet our operating costs over the following 12 months and in addition have successfully raised $19.4 million in cash since April 2014. We also hold shares in an ASX listed company that are able to be sold.
High concentration of investments in technology businesses give Punakaiki Fund greater exposure to technology sector volatility, with the risk that a downwards valuation in the entire technology sector could have a more significant impact on the valuation of Punakaiki Fund's portfolio of investments than on a more diversified portfolio. We invest in companies which provide us with exposure to a diverse range of industries to help mitigate our technology and SaaS business model concentration.
Uncertainty about the valuation of companies, with the risk that the valuations could be too high (or too low) versus the market values. Punakaiki Fund's auditor Ernst & Young draws attention in their Independent Auditor's Report on the FY2017 financial statements to "Note 3.1.1 to the financial statements which describes the inherent uncertainty and difficulty in measuring the fair value of early stage unlisted investments." Punakaiki Fund uses revenue, EBITDA, revenue growth rates and public market valuations of comparable companies; along with performance, small company, control and liquidity adjustments, to guide periodic valuations of the portfolio. Punakaiki Fund also uses valuations provided by external providers, and public market stock prices to value investments in listed assets.
The loss of the poor performance of key people, specifically Lance Wiggs and Chris Humphreys from Lance Wiggs Capital Management (LWCM), the Manager. The Management Agreement can be terminated by the Board for cause, and by shareholders with a majority vote, each without penalty.
This summary does not cover all of the risks of investing in Shares. You should also ready Section 8 of the
PDS, Risks to Punakaiki Fund's Business and Plans, on page 49.
About Punakaiki Fund (As at December 2017 PDS)
---
Punakaiki Fund makes long-term investments into high-growth, revenue-generating New Zealand companies. The company has a diverse portfolio of investments in 20 Portfolio Companies and total assets, including cash, of $32.3 million.
The Portfolio Companies represent a diverse range of products and services, target markets, business models and sizes. Their aggregate revenues over the last twelve months to 30 September 2017 (not weighted by our shareholding) were over $81 million, while the largest individual investment represented less than 15% of Punakaiki Fund's Assets.
Punakaiki Fund is profitable and predominantly generates returns through changes in the fair value of investments (net of accrued Performance Fees), as well as dividends received from investments and cash or shares received from the sale of investment assets. To date the company has negative operating cash flow, as cash spent on operational expenses exceeded cash received from dividends. Net cash of $0.493 million was used in operating activities on FY2017 and $0.214 million for the half year ending 30 September 2017. Punakaiki Fund has a target asset allocation immediately after fund-raising of more than 2.75% of its assets to be held in reserve as cash (currently $0.568 million) to ensure that the company can meet operational costs for 12 months without further fundraising.
Our Statement of Investment Policies and Objectives, summarised below, outlines the philosophies, objectives and strategies we have in place in order to make investments and deliver returns to our Shareholders. We believe these philosophies, objectives and strategies are an effective and appropriate way to maximise returns for our Shareholders.
Statement of Investment Policies and Objectives Summary
---
Investment Philosophy
We believe that the following policies provide the greatest opportunity to generate significant returns for our Shareholders:
New Zealand Focus: We believe that there are consistently large numbers of high quality New Zealand-based companies seeking funding, but that there is a general shortage of well-directed growth capital. We also believe that there are market inefficiencies for the supply of growth capital in the New Zealand market.
High Growth Focus: We believe that well-selected high-growth companies can generate risk-adjusted returns for our investors that are higher than those from public markets.
Investor of Choice for Founders: We believe that a founder-centric approach to investment and management attracts the best high growth investment opportunities to Punakaiki Fund.
Attractive Portfolio: We believe that holding a highly regarded portfolio of investments attracts other highly regarded companies to seek investment from Punakaiki Fund.
Long-term Investment: We believe that holding investments for the long term delivers higher returns to our investors.
Diverse Portfolio: We believe that portfolio diversification reduces the level of risk for a given amount of return.
Investment Objectives
Punakaiki Fund has a primary objective of delivering Shareholders significant returns over the medium to long term.
Deliver Significant Returns to Investors
We aim to deliver significant five-year rolling annual returns to Shareholders, measured net of all costs, fees and Punakaiki Fund-level taxes. We believe that strong returns are achievable based on the underlying growth rates of the Portfolio Companies and new companies that we invest in. We also believe that this value will manifest providing that we continue to hold those companies over the long term. Value may also be delivered through sale of our investments.
To date, total Shareholder returns, based on changes in Investor Net Asset Value per Share, have been very high. We expect total Shareholder returns to moderate as Punakaiki Fund grows in size and its investments mature.
Become Self-Sufficient
We aim to be able to eventually meet our internal expense obligations (including the payment of the Management Fee) through dividend flows from Portfolio Companies, rather than by raising new capital.
Investment Strategy
Punakaiki Fund aims to achieve its objectives by:
Supporting High-Growth Companies and their Founders
We aim to find high-growth companies in New Zealand and support them with capital and advice (as required) and be easy to work with for founders. We do not insist on board seats, complex contracts or control when investing, but do look for appropriate governance and will take directorships when desired by both parties. We are able to act swiftly where required to agree and close investments.
Having a Low Rate of Investment Failure
We aim to invest in opportunities that have been significantly de-risked by displaying traits such as:
a genuine end-user need and compelling products;
existing or locked-in revenue and a growing revenue curve;
an effective and efficient company with strong people and culture; and
a robust financial investment case that allows the company to grow or return to positive cash-flow with investment.
Having a Long Life
We are a permanent capital investor and have a patient, long-term investment mandate. We aim to hold our investments for considerable periods of time in order to allow our Portfolio Companies to grow to maturity. Occasionally we may sell investments, although generally only after a founder-led decision.
Having a Strong and Diverse Portfolio
We aim to lower Punakaiki Fund's market risk by having a well-diversified portfolio across company stages, industries, business models and markets.
Holding for Dividends
We aim to hold Portfolio Companies over the long-term to receive ever-increasing dividend payments.
Investment Performance
Many venture capital funds use gross internal rate of return ("Gross IRR") as a measure of their performance. Gross IRR is the annualised percentage return from each investment, based on the amount investment, the elapsed time between the investment date and today, and today's valuation. For example, if an investment of $1 million was made in July 2016 and the value today was assessed at $1.5 million then the valuation would have increased by 50%, but the Gross IRR, which is the annualised percentage return, would be only 33% (i.e. the compounding annual return that we need to grow $1 million to $1.5 million over 17 months.)
The table below reflects the overall gross IRR of our investments, grouped by the calendar year of each investment. This excludes all fees and other operating costs of Punakaiki Fund.
Punakaiki Fund's investments have delivered a Gross IRR of 36% (a 79% increase in value) based on assessed changes in fair market valuation, as well as dividends received, since each investment tranche.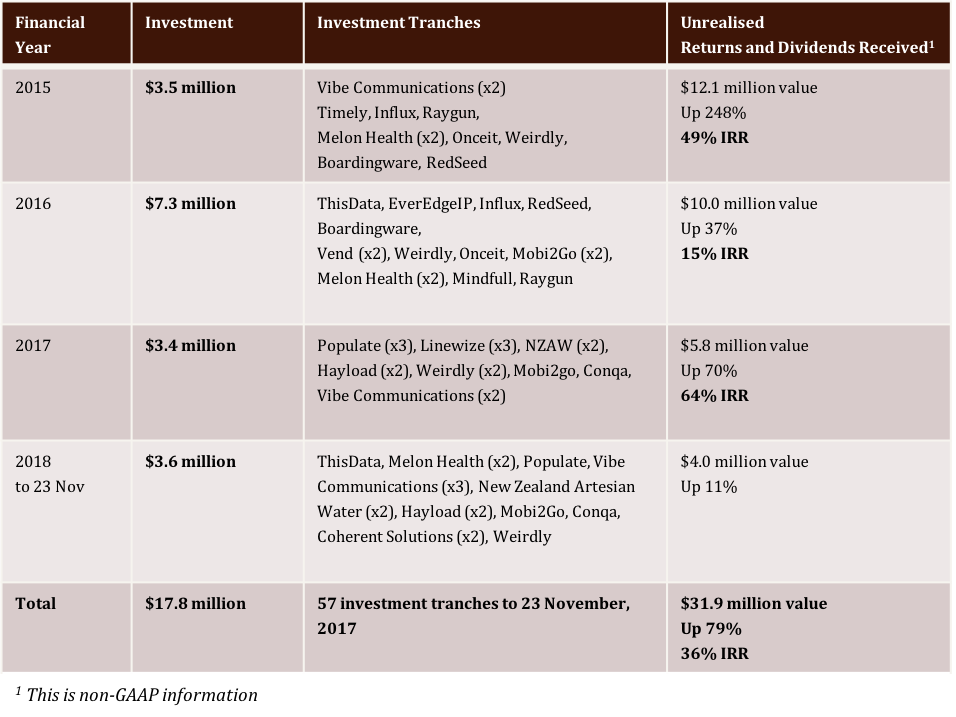 The high returns from 2017 are primarily due to the sale of Linewize to Family Zone, driving the total investments of $3.4 million in financial year 2017 to show an increase of 70%. In general we expect investments in Portfolio Companies that Punakaiki Fund has held and provided advice to the longest will show the greatest returns, while the newer investments take time to be materially revalued.
The strategy of Punakaiki Fund is to hold investments for the long term.
The approach to valuation is discussed in Section 5, Terms of the Offer, on page 37 of the December 2017 PDS.
Fund Raising
---
Punakaiki Fund launched as a private fund in April 2014, raising $23.5 million to date, including issuing new shares for one transaction. These fund raising events were for wholesale investors only, unless noted, and included:
$1.525 million in April 2014 for Shares+Options, priced at $10. The options were to buy a $10 share expiring in November 2014 and a $12 share expiring in June 2015.
$1.500 million from the November 2014 option round for shares priced at $10, which was 98.3% subscribed.
$1.830 million from the June 2015 option round, for Shares priced at $12.00, which was 100% subscribed.
$1.155 million in December 2014 for Shares+Option priced at $12.50. The option was to buy one share for $14 by 30 September 2015.
$2 million (maximum allowed) from the public via the Snowball Effect offer in June 2015 for shares priced at $14.50.
$0.912 million from a private offer run alongside the Snowball Effect Offer in June 2015 for shares priced at $14.50.
$0.942 million from the September 2015 Options for Shares priced at $14.00. The option round was 73% subscribed with a lot of investor demand satisfied by trading of the June options and the June offer.
$0.725 million from the issue of new shares in return for shares in Vend Limited. This was a related party transaction with Lance Wiggs and required a shareholder vote.
$2.24 million in December 2015 and January 2016 for Shares+Options priced at $16.50. The options were to buy a $19.00 Share, expiring in September 2016.
$0.53 million in October 2016 from the September 2016 $19 Options, which was 20.59% subscribed. This was low as the board was unable to give certainty about whether the then forthcoming PDS offer would be above the same or below $19. The price for that offer is $19.
$2.382 million from a NZ Public Offer and Australian IM to wholesale investors in November and December 2016.
$0.774m in March 2017 for ordinary Shares at $20.50 each.
$1.786m in March 2017 for ordinary shares at $15.00 each as part of a 1:10 discounted non-renounceable rights issue.
$1.800m in July and August 2017 for 90,000 ordinary Shares at $20.00 each.
$3.438 million from a NZ Public Offer in November and December, 2017.