A press release from Punakaiki Fund. Punakaiki Fund Limited is raising capital through a Product Disclosure Statement (PDS). Investors may apply at Punakaikifund.co.nz/InvestNow or via Snowball Effect.
PRESS RELEASE
19 December 2016
Punakaiki Fund Exceeds Expectations from 2015 Crowdfunding Offer and makes Three New Investments.
Punakaiki Fund has exceeded its Key Performance Indicators (KPIs) set as part of the June 2015 crowdfunding offer on Snowball Effect's platform.
Punakaiki Fund manager Lance Wiggs says each of the KPIs were not just met but exceeded.
"Our Net Asset Value per share rose by over 26% in the 12 months after the offer, while in 2015 we appointed three new directors to the Punakaiki Fund board," he says.
The results come after a strong year from the portfolio of 18 companies. "We invest in growth, and the hard work from the hundreds of people at these high growth  companies is paying off" says Wiggs.
Punakaiki Fund also announces three new investments into existing portfolio companies.
The first, increasing the shareholding of school firewall providers Linewize (LINK), was signalled in the Product Disclosure Statement and lifts Punakaiki Fund's shareholding to 20%. Linewize CEO Scott Noakes says he is very pleased with the investment and says, "We are expecting continued strong growth in New Zealand over the next 12 months and have also launched our partnership with Hapara in the USA, with a team visiting our first installations this month."
The second investment leads a small internal investment round with Mobi2Go, and lifts Punakaiki Fund's shareholding from 11.0% to 12.6%.
CEO and Founder Tarik Malett thanked Punakaiki Fund and says, "The funds are primarily being used to support our expansion and we are focused on new opportunities with large franchises including fuel stations and restaurant chains. Meanwhile our development team isn't standing still, recently optimising our core code to run 50% faster, reducing our infrastructure costs by 25% and delivering a noticeable speed increase to customers."
The third committed investment is the early exercise of half of the options held with NZ Artesian Water, raising Punakaiki Fund's shareholding from 11.8% to 16.1%. Founder and CEO Andrew Strang says, "We are overwhelmed with demand from several very large global customers for our E'Stel bottled water, and are using these funds to buy new plant to expand our capacity."
NZ Artesian Water's Nelson plant was opened by Prime Minister John Key in March 2015 and is already showing signs of strong growth.
"We just had our biggest month of sales ever – more than double our next biggest month, and we are aiming to increase monthly sales by over five times over the next six to eight months. We need to invest in our plant so that we can keep up with demand," says Strang.
Punakaiki Fund has received investor commitments for $1.8 million so far in the current public offer, which closes on Tuesday 20th December.
Wiggs says, "These new investments show the demand for our funds from great companies. Each of them is growing their revenue at a very high rate, and these and others would benefit from even more funding to accelerate that growth."
<end>
NOTES
KPI 1: Net Asset Value per Share rises by over 20% in 12 months
The Net Asset Value per Share, as defined during the 2015 crowdfunding offer, rose by 26.4% in the 12 months from the offer closing on July 1 2015 to June 30, 2016.
The closing date of the crowdfunding round was 1 July 2015, but some shares from the three offers at the time were only issued during the month of July. This analysis uses pro forma accounts as at 1 July 2015 as if all shares were issued and all capital raised had been received.
Punakaiki Fund Limited completed a full valuation exercise as part of the preparation for the current offer to the public in September 2016, and the result (the Net Asset Value rising by 34.8% over 15 months) represents a similar percentage increase on an annualised basis.
Punakaiki Fund has subsequently refined the definition of Net Asset Value for communication with investors. They now use the term Investor Net Asset Value (iNAV) to refer to the key benchmark that investors should track, as it also accounts for the equity portion of Punakaiki Fund's manager's accrued performance fee. Using this investor rather than accounting-centric measure shows slightly lower returns of around 25% in the 12 months after the crowdfunding raise.
The price for the 2016 offer was $14.50 per share and the current public offer is priced at $19.00 per share. These prices include brokerage of 3%.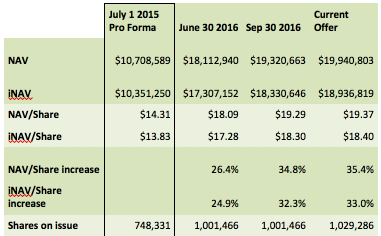 Summary table of changes in NAV and iNAV.
KPI 2: Present an independent director to the shareholders for vote within three months
Punakaiki Fund presented three directors to shareholders for shareholder vote within three months of the Snowball Effect Offer at Punakaiki Fund's 2015 Annual Meeting. These candidates, Mike Bennetts (Z Energy CEO), John Berry (Pathfinder Asset Management) and Bryan Hutchins (Real Journeys), were selected after a call for nominations from shareholders.
All were voted in with overwhelming majorities at the 2015 Annual Meeting.
Lance Wiggs says, "Frankly we were overwhelmed when the three candidates offered their help, and have been delighted with the board's support to date. They are doing a great job for shareholders."
At the September 2016 Annual Meeting, Punakaiki Fund's shareholders voted Mandy Simpson (CEO Cyber Toa, ex COO NZX) to be added to the board of directors, and Wiggs now considers that Punakaiki Fund has a highly experienced and well balanced board, especially considering the size of the company.
Lance Wiggs says, "The board works hard to protect shareholder interests, and we focus on risk management, valuation and Punakaiki Fund's path to IPO."
Punakaiki Fund more recently designated Bryan Hutchins as a non-independent director as interests associated with him held over 5% of the shares on issue prior to the latest offer.
More information
Lance Wiggs
021 526239
lance@punakaikifund.co.nz
Punakaiki Fund Limited is raising capital through a Product Disclosure Statement (PDS).
The Governance section of the Punakaiki Fund website has background documents on Punakaiki Fund as well as bios for the directors.