Contact Energy posted a wicked result for Punakaiki investee company Devoli in its interim result. At the end of January 2021, the energy retailer reported 40,000 broadband customers, up 90% over January 2020's reported 21,000 customers. Most of the customers were added using Devoli's virtual ISP system.
Devoli is one of PFL's largest investments. It's a provider of software and network services for internet service providers. Devoli won Contact Energy's business in 2020, with new customers being provisioned by Devoli from mid-year, and the full handover of customers completing near the end of the calendar year.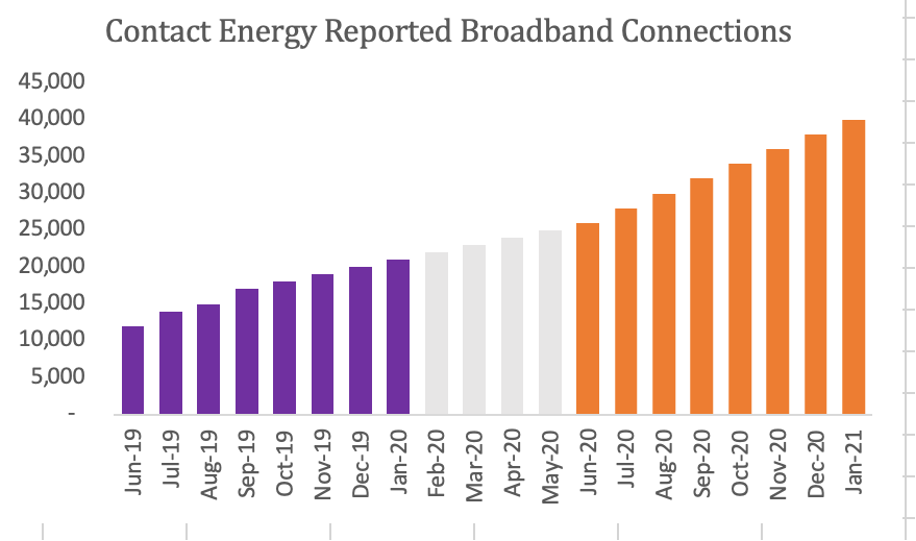 Chart Source: Contact Energy Operational Reports. Grey bars use extrapolated data. 
Contact also reported a 52% productivity increase in broadband connections per full time employee, attributing this to the change in their provider to Devoli.
Chris Humphreys, PFL co-founder and a director of Devoli says, "we see that a high-quality broadband offering can play a key part in the future of Contact Energy, especially in such an intensely competitive market. We are very happy that Devoli is able to assist them and to see these early results come through."
Telecommunications market expert Rohan MacMahon, who is also a director of Devoli, says the result really validates the Devoli model which has helped Contact increase broadband connections while increasing staff productivity.
Devoli has a reputation for enabling high-quality customer experiences. In 2019 Devoli was the supplier to Stuff Fibre, which won four 2019 Tuanz Broadband Compare awards, taking home the Provider of the Year, Best Fibre Broadband Provider, Best Broadband Innovation and Peoples Choice awards. Devoli itself originally gained the Stuff Fibre business from Vocus, but in 2020 Vocus purchased Stuff Fibre itself, transitioning the customers late in the calendar year. Despite the loss of the Stuff Fibre business Devoli's quarterly revenue was up nearly 150% year on year, fueled by the success of the Contact Energy partnership.
This story was reported on by NBR.
See the Contact Energy data here: 2021 Interim Results Presentation, Page 20
Contact FY21 Half Year Results webcast available here from around 27 minutes).