We are very happy to share the news that we have invested $5 million into Quantifi Photonics, leading a $15 million raise.
With this investment Quantifi Photonics is well set up to meet its growth challenges over the next few years, as the market for silicon photonics and optical transceivers explodes.
Since our initial investment in 2017, Andy Stevens, Iannick Monfils and the team at Quantifi Photonics have extended their
range of products to meet this rapidly changing market. They have shifted from selling equipment that helps labs develop high-end equipment to also selling equipment to help manufacturing facilities test optical products at high volumes.
One range of products, for example, are optical transceivers, which increasingly connect servers in very large data centres and cost many thousands of dollars. Testing each one is an important, yet expensive, step in the manufacturing process. Quantifi's newer products allow their clients to increase production speeds, lower costs and deliver increasingly advanced products of their own.
We are very excited about their future.
Our Largest Investment
Our investment of $5 million is our largest single investment to date, and uses some of the funds received from the sale of Vend.
We led the investment round, and are very happy to see three new investors – Simplicity, Pacific Channel and Nuance Connected Capital – join in, along with two other existing investors, NZGCP and K1W1.
Two of the three new investors are new venture capital funds, and the third, Simplicity, is making its first direct venture capital investment. As the lead investors, we hold the only investor-appointed directorship (I am that director), but the company will be able to lean on people from the other funds for specific help as required.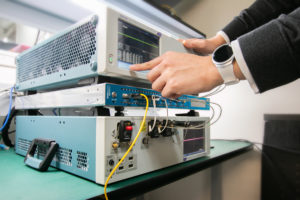 What's Next
As always we prioritise our existing investments first, but we are seeing some other very good companies to place capital.
As one of only three New Zealand venture capital funds active for more than six years, we see Punakaiki Fund's role will be increasingly catalytic, and we have already seen a rush by other investors when we express interest in investing in other companies.
The investment has received strong coverage in the media. See the NBR (paid) and NZHerald (paid) here.
And you can read the official press release here: Quantifi Photonics NZ Press release.