Punakaiki Fund is thrilled with this morning's news that Quantifi Photonics has raised $25 million (US$15m) in a Series C funding round led by Intel Capital.
The investment values Quantifi Photonics at $90 million.
Punakaiki Fund is the largest shareholder in the Auckland-based hi-tech manufacturer – a leader in photonics test and measurement. Intel Capital, the venture capital arm of Intel Corporation, led the round which was supported by existing New Zealand investors Pacific Channel, Nuance Connected Capital, Simplicity, K1W1, NZ Growth Capital Partners and UniServices.
Lance Wiggs of Punakaiki Fund says: "This is an exciting moment for us and for Quantifi Photonics. The investment by Intel Capital is a strong endorsement of the company.
"We're also pleased to see the other New Zealand VC funds continue their support and congratulate Andy and the team on securing the backing of such high calibre domestic and international investors."
Intel Capital will add a new non-executive director to the Quantifi Photonics board.
A $14b market
The capital will help Quantifi Photonics plan to transform the global photonics test and measurement industry.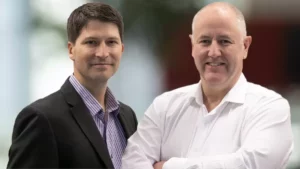 "Intel Capital's investment will help us carry out our strategy and seize the market for the high-value test instruments required to support the rapidly growing transceiver market, which is projected to exceed US $14B by the year 2026," says Dr. Andy Stevens, CEO and co-founder of Quantifi Photonics.
"We are also grateful to our existing investors who participated in the round. With help from NZTE, Callaghan Innovation, and the hard work of our passionate staff, we've made incredible progress in the last few years."
Following an over-subscribed Series B round in 2021, Quantifi Photonics increased annual sales orders by over 70% and established a dedicated research and development centre in Thailand following the acquisition of SmarTest Technologies. The company is now fast-tracking the development of new test instruments designed for the latest optical communications technologies designed to power 5G and 6G communication networks.
"Silicon photonics is a key technique in the future of the semiconductor and telecommunications industries, especially with the increasing bandwidth requirements for data center and 5G/6G applications," says Sean Doyle, Managing Director at Intel Capital.
"The Quantifi Photonics team has the potential to supply critical test and measurement solutions to the market at large."
Quantifi Photonics is headquartered in Auckland with wholly-owned subsidiaries in the USA and Thailand. The company will be growing its New Zealand R&D and manufacturing teams, and investing in overseas sales and customer support teams to capitalise on the significant growth in optical communication networks around the world.
Read the company statement and also coverage from Fiona Rotherham at NBR